I would like to take just a couple minutes of your time to introduce myself. I am Kaine Kelly and I am honored to say that I am the superintendent of the Randolph Central School District. Prior to coming to Randolph I worked for the Sherman Central School District. I spent the first six years of my career there as principal and the last four as the Superintendent. Before that, I was a middle school teacher for the Forestville Central School District. I live in Jamestown with my wife, Tracy, who works at Jamestown Community College and my two sons Roan and Rhys. Both attend Randolph Central Schoolwith me. It is safe to say that we have really enjoyed becoming a part of the Randolph community. It has been a perfect fit for our family.
From a professional standpoint, I view it as my job to be a partner to all of the staff, students, and community members as we seek excellence for our children. It is my goal to make sure Randolph Central School runs as efficiently and affordably as possible without sacrificing student opportunity. It will be our goal to produce graduates who are prepared to head out into the world and compete in a global economy, while at the same time possessing the necessary values to make them productive citizens. We are not only producing our future scientists, teachers, and business owners, we are also producing our future parents, spouses, and neighbors
I believe very strongly that communication and interpersonal relationships are at the heart of the work we do. So please, always feel comfortable contacting me for anything related to your child's education or with concerns about the functioning of this district. I welcome your feedback and I am confident that there isn't an issue we can't solve together. Rest assured, I will work tirelessly to ensure that the mission and vision of this district are met, while at the same time being a steward of the taxpayer dollar. I will seek to provide fiscally conservative solutions to the complex issues our district faces, all the while, keeping what is best for the students at the forefront of my decision making. Our students' academic, extracurricular, social, and emotional strength is my top priority.
If you have any questions, comments, or concerns please do not hesitate to contact me. I look forward to getting to meet and work with all of you.
Sincerely,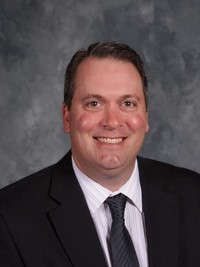 Kaine Kelly
Superintendent of Schools